A Nature's sweet child born in the mind of The Great Germen Physician Samual Fredrich Hahneman who was in the pain out of medical procedure practiced at that time (even now a day also ) . One can perceive Homeopathy as a highly evolved system of medicine of last century dealing with our spiritual to physical being. Like old testimonies of our spiritual literature Homeopathy is also incomprehensible to the common people because of its formation and application is not explainable by laws of Newtonian Physics but it is understandable by Quantum means only.
EKJOT HOMEO CLINIC
Ekjot Homeopathic Clinic is a globally renowned homeopathic clinic. The name Ekjot represent the one Divine Light that prevail in all over the universe and manifest healing. This light of healing cures the sick man in the form of sweet homeopathic pills in the premises of Ekjot Homeo Clinic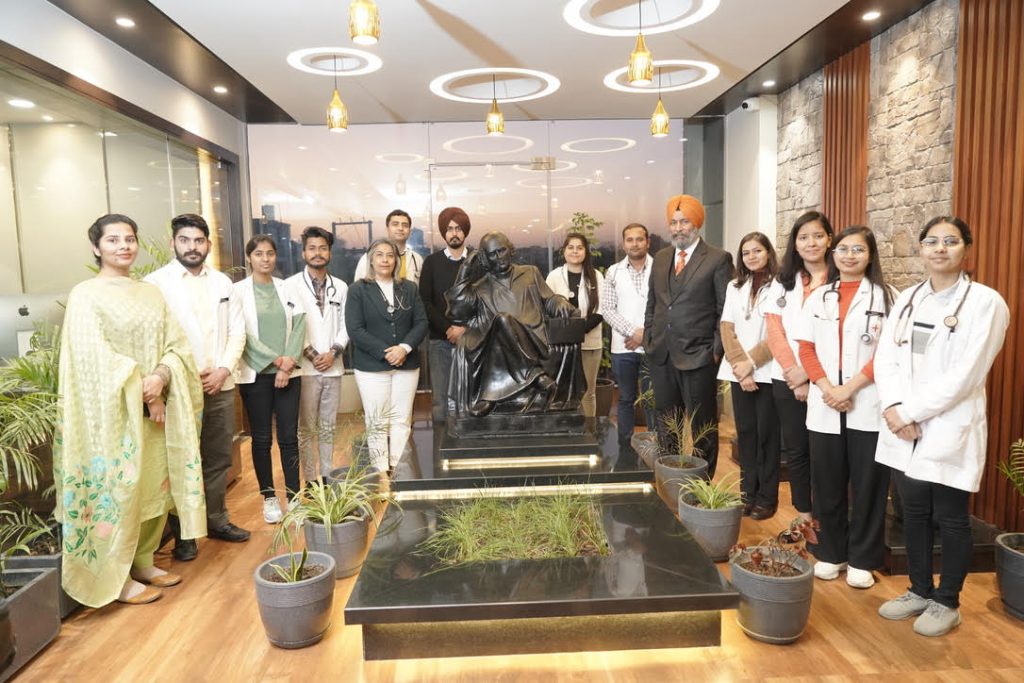 Patients from different countries get benefits from last 20 yrs. many diseases like cancers, PCOD, skin diseases, juvenile diabetes, fibroids, rheumatic arthritis, mental diseases, special children, AUTISM, cerebral palsy, pregnancy disorders and many more are treating successfully. This is a homeopathic clinic that is dealing with so called incurable untouchable cases
The clinic was established on 2nd april 2000. From that day it is growing in the service of sick humanity. Many budding doctors got practical trainings here and are having well settled clinics. A daily morning class is conducting by Dr didar singh the owner of clinic to improve the knowledge of assistant doctors. Discussions and classes are running in the premises of clinic.
The highest ideal of therapy is to restore health rapidly, gently, permanently to remove and destroy the whole disease in the shortest, surest, least harmful way. Ekjot Home Clinic is the example of such type of cures
FOUNDERS
DR DIDAR SINGH and DR DEEPJOT KAUR are the brain and strength of the Ekjot Home Clinic. They worked hard day and night very efficiently and conscientiously. They both are fully dedicated to their work and their patients. They are known as renowned for there visionary way of thinking and applying homeopathy. They are the well known international doctors, lecturers and educators who have been treated thousands of patients from last 20 yrs. They are driven by the conviction that each of us has the potential to heal and these sweet homeopathic pills carry that potential in the form of homeopathic medicine and initiate the process of healing. In their easy-to-understand, encouraging and compassionate style, they educate thousands of doctors and patients detailing how the disease manifested in the body and how they can set up the healing process. As a researcher, they found the new way of prescribing the medicine, under the guidance of homeopathic principle, by getting the latest findings from the field of Neuroscience, Epigenetics and Quantum Physics. They using that knowledge to help people to heal themselves of illness, chronic conditions and even terminal diseases so that enjoy a more fulfilled and happy life, as well as evolve their consciousness Dr Didar Singh and Dr Deepjot Kaur are also the founder members of Pecific Research Academy of Classical Homeopathy ( PREACH). Under the banner of PREACH they conduct seminars and classes in different states and cities to teach the following doctors. They show cured cases and give teachings to prescribe medicine by using homeopathic knowledge and modern sciences. Also free camps for special children's are doing miraculous work with our dedicated team of doctors since last 10 years.
WHY CHOOSE US
We're Setting the New
Standards in Medical Sector
we treat our patients by thoroughly examining his pathologies by using advance tests and advance techniques
FASTEST AND FINEST CURE
we break the myths of slow curing process and show our fastest results in even advance pathologies
HIGHLY SUCCESSFUL TREATMENTS
we have wonderful results in all acute and chronic and advance cases and a good satisfying cure rates
We offer top quality of treatment for healthy and beautiful smiles with homeopathy .
We are blessed to heal you as Healing is defined as to make or become healthy or whole again; to restore to original purity in mind, body, and soul.
We embrace life with our tender hands as we know - to heal is to touch with love.
True healing takes place from with in - we modulate our spiritual power of healing with homeopathy.
Homeopathy offers a way of living by making unconscious to conscious, resentful to loveable, fear full to safe animal thinking to a spiritual being.